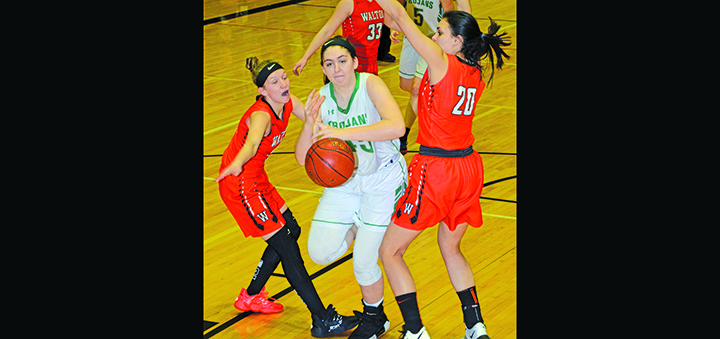 Greene's Emma powers her way to the hoop in the Trojans' victory over Walton Tuesday night. Smith joined the 1,000 point club during the game and tallied a total of 16 points in the win. (Photo By Pete Mansheffer)
Oxford and S-E cruise to league victories
GREENE – Entering Tuesday's Midstate Athletic Conference game 15 points shy to reach the career milestone, Emma Smith of Greene was able to reach 1,000 points with style.
In a close game against Walton and with 1:31 left, Smith powered up a layup. As the ball went through the net, the crowd on hand broke out into loud ovation for the Lady Trojans' forward. Smith was also fouled on the play and went to the free throw line.
Knocking down the foul shot gave Smith 1,001 points for her career and 16 for the game as Greene. The and-1 play put the Trojans up by eight with little time remaining.
Walton's Jacqlyn Gransbury hit a shot from behind the 3-point arc to bring her team within five points but the home team prevailed, taking the 36-31 win over the visiting Warriors.
Both teams opened the game with a slow start as the score at the end of the first was 6-2, in favor of the Trojans.
Finding their offensive flow from the floor, Greene made five baskets to outscore Walton 11-10 in the second stanza to take a five point advantage into the locker room at halftime.
Out of the break, the two teams nearly matched point for point but once again, it was the Trojans who extended their lead.