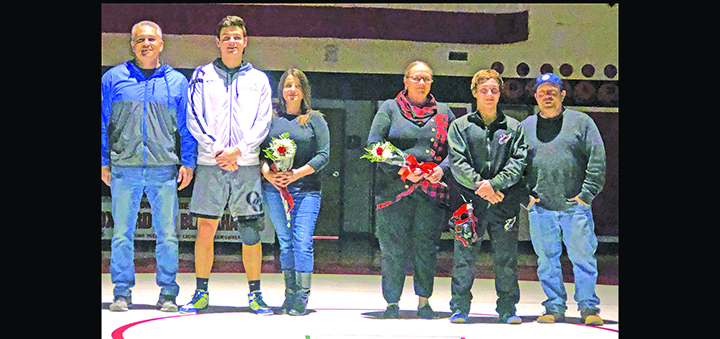 The Greene/Oxford Blackhawks celebrated senior night at Oxford's gym on Wednesday. Noah Kennedy (left) of Greene and Paul Baker (right) of Oxford were recongized prior to the start of the match against Unatego/Unadilla Valley, a dual meet in which the Blackhawks won 45-27. It was the seventh dual meet win of the season for Greene/Oxford. (Submitted Photo)
Marauders fall on senior night to Morrisville-Eaton
OXFORD – Hosting a second senior night for the Blackhawks – this time in Oxford's gymnasium – Greene/Oxford captured yet another dual meet victory this season on the matt as they defeated Unatego/Unadilla Valley Wednesday 45-27.
The Blackhawks won six of the 11 matches wrestled during the dual meet action, five coming by way of pinfall. However, an exciting and much needed win in the match was picked up by Greene/Oxford's Hogan Ludolph, earning an 8-6 sudden victory decision win.
In the extra period of wrestling, the first wrestler to earn a take down is awarded the win. Ludolph earned the two points in overtime over Jacob Stevens of Unatego/Unadilla Valley at 152 pounds, giving the home team a commanding 39-12 advantage midway through the meet.
Unatego/Unadilla Valley started with a 6-0 lead after the first of three meet forfeits kicked off the match. Owen Marcin of Greene/Oxford quickly took the visiting team's lead away with his 3:08 pin at 106 pounds and a forfeit awarded to Gabe Gorman of the Blackhawks and a pinfall win by Kaden Wakefield gave the home team a 12-point edge.
Greene/Oxford never lost the lead again in the match but Josh Meade of Unatego/Unadilla Valley brought the meet to a six-point difference with is pin over the Blackhawks' Victoria Fleury in the second period.