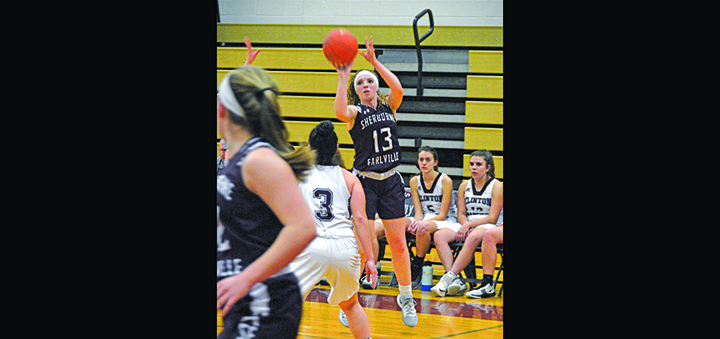 Sherburne-Earlville junior Tessa Cole pulls up from behind the 3-point line for a shot in Tuesday's game against Clinton. Cole made the basket, eclipsing the 1,000 point mark of her career. Cole became just the third Lady Marauder to reach the milestone. She finished the game with 30 points and S-E came away with the road win. (Evening Sun Photo, Meagan Schulz)
Lady Storm dropped third straight game
CLINTON – Entering the game nine points shy of reaching 1,000 for her illustrious career, Sherburne-Earlville junior Tessa Cole chipped away at the small total early in the first quarter.
Opening with a 3-pointer, Cole added two transition layups to put her just two points away. However, in Tessa Cole fashion, the junior Marauder used a step-back move to place her beyond the arc and drained the 3-point field goal to bring the S-E fans to a roaring ovation.
After reaching the milestone, Cole and the Marauders got down to business in order to pick up the Center State Conference 61-49 road win over the host Clinton Warriors.
The S-E junior finished with 30 points, – 15 coming from made 3-pointers in the contest – to lead all scorers.
The Marauders quickly pushed the game to a 14-point advantage at the end of the first quarter, tallying 23 points in the opening eight minutes of play.
However, the home team wasn't going to go away easy, attempting to spoil the landmark night with several scoring runs throughout the game. Clinton also used the 23 Sherburne-Earlville turnovers to get back into the game.