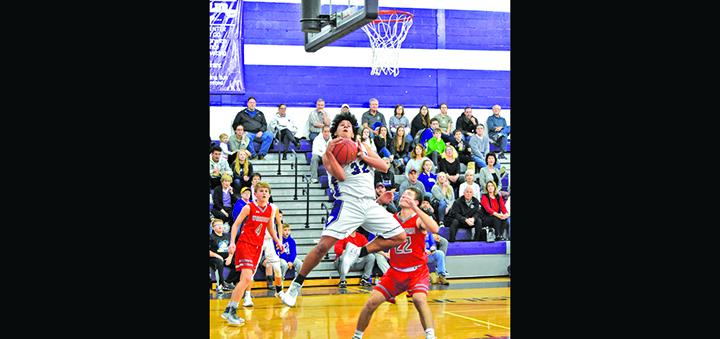 Norwich's Jahlil Jones goes up in the air for a first half layup against Chenango Valley's Rory Thompson. Jones finished with 10 points in the game as the Purple Tornado went on to win 80-71 in the first game of the season for Norwich. (Tracy Vinal Photo)
Oxford topped by Sidney in MAC; S-E falls to Mustangs
NORWICH – In their first game of the season, the Norwich Purple Tornado boys basketball team posted 80 points, topping divisional opponent Chenango Valley 80-71.
Norwich jumped out to a 12-0 lead in the first quarter and extended the lead to 20-5 before the visiting Warriors responded with their lights out shooting.
During the first quarter run for the Tornado, senior Tommy Flanagan the sharp shooter, knocking down three 3-point field goals – all with a CV defender in his face. Flanagan finished with 17 for the game, 15 points coming from beyond the arc.
Chenango Valley answered, bringing the game within five points midway through the second quarter but the home team countered with a run of their own to go into the locker room at the break up by 10 points.
Out of the break, the Warriors shifted the momentum in their favor as Tom Christoffersen and Dom Testani went on a scoring stretch.
In an attempt to throw something different at CV and stop their run, Norwich head coach Tom Collier turned to many first-year varsity players like Logan Ford, Torin Lawrence and Andrew Mullen. With his hustling efforts, Lawrence kept several offensive plays alive while both he and Ford played strong defense.