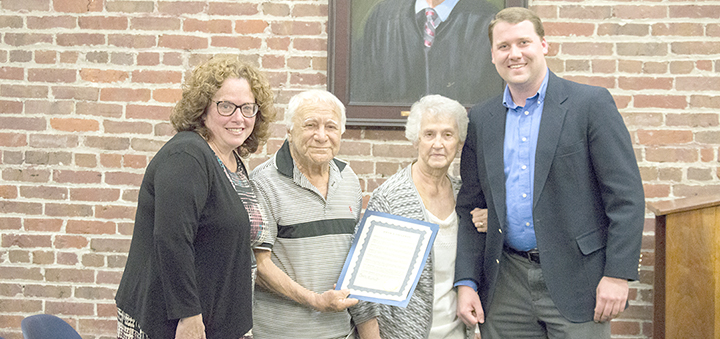 City of Norwich Mayor Christine Carnrike, Evening Sun Photographer Frank Speziale, Patricia Speziale, and City of Norwich Alderman of Ward Six Robert D. Jeffrey. (Zachary Meseck Photo)
NORWICH – Evening Sun Photographer Frank Speziale was honored in a proclamation at Tuesday's joint committee meeting for his 55 years of dedication to the local newspaper and the community.
Ward Six Alderman Robert D. Jeffrey presented and signed the proclamation after stating that he deeded, "It an hour and pleasure to extend this proclamation to Frank Speziale on the occasion of his many years of service to the City of Norwich and surrounding communities."
Jeffrey said Speziale has demonstrated in countless ways his dedication to the welfare of others and has earned the respect, affection and admiration of people from all walks of life and all ages.
"His love for community, love for people, love of life is infectious and it has forever been ingrained in anything that he does and continues to do for our community," he said.
After receiving the award, Speziale said he appreciated being a part of the local community.