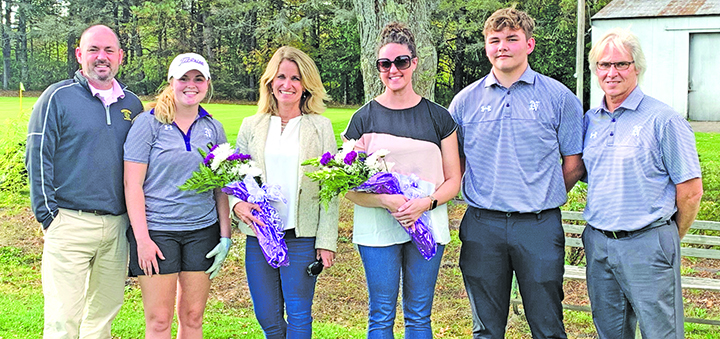 The Norwich Golf team and head coach Dave Branham honored the two seniors on the 2019 roster prior to Tuesday's home match against Seton Catholic. Tornado seniors Parker Walsh and Cameron Birtch were joined by their parents as Branham (far right) recognized the two for their dedication to the program over the years. (Evening Sun Photo, Meagan Schulz)
Oxford earns match win against conference rival Greene
NORWICH – The Tornado golfers split the two matches this week, taking a win in the first match over Oneonta 258-302 but fell to the Saints of Seton Catholic 192-260 on Tuesday on Norwich's home course of Canasawacta Country Club.
Playing the back nine holes of the course at the country club, the Tornado's Parker Walsh – one of the two seniors honored before match play started – led the home team on the scorecard with a 7-over 42 on the par 35.
Teammate Max Marson played a solid round, turning in a 49 for the round while Logan Waters carded his best nine-hole score of the season with a 55.
Norwich's Cameron Birtch, who was the other senior recognized prior to the start of the contest, shot a 56 during the match to finish fourth on the Tornado scorecard.
Participating in just his third varsity match of the year, Jacob Dowdall rounded out the top five for Norwich with a 58 – his best score for the season.
Seton Catholic's Michael Bucko shot a 1-under par 34 for the match's top medalist honors. Colleague Liam Burtis carded an even 35 for the back nine and Danny Crowely finished the round with a 39.