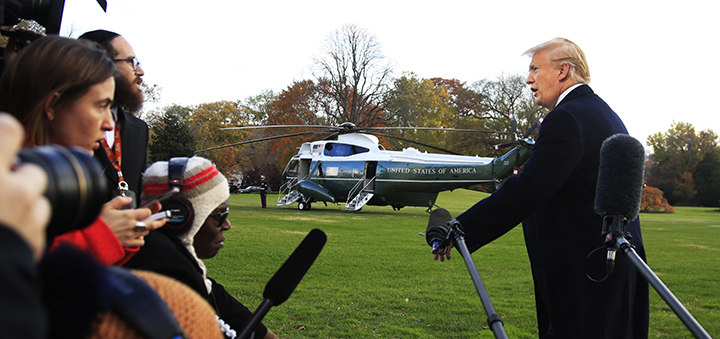 President Donald Trump speaks to the media before leaving the White House in Washington, Tuesday, Nov. 20, 2018, to travel to Florida, where he will spend Thanksgiving at Mar-a-Lago. (AP Photo/Manuel Balce Ceneta)
WASHINGTON (AP) — President Donald Trump on Wednesday publicly thanked Saudi Arabia for plunging oil prices amid criticism over his decision not to further punish the kingdom for the killing of U.S.-based columnist Jamal Khashoggi.
Trump, who made clear in an exclamation-filled statement Tuesday that he feels that the benefits of good relations with the kingdom outweigh the possibility its crown prince ordered the killing, tweeted that it's "Great!" that oil prices are falling.
"Thank you to Saudi Arabia, but let's go lower!" he wrote from his Mar-a-Lago club in Palm Beach, Florida, where he's spending the Thanksgiving holiday.
The international crude benchmark, Brent, has fallen under $65 per barrel from a four-year high of over $86 in early October as the U.S., Saudi Arabia and Russia have all stepped up output.
The president on Tuesday condemned the brutal slaying of Khashoggi inside the Saudi consulate in Istanbul as a "horrible crime ... that our country does not condone." But he rejected calls by many in Congress, including members of his own party, for a tougher response, and he dismissed reports from U.S. intelligence agencies that Crown Prince Mohammed bin Salman must have at least known about such an audacious and intricate plot.
"It could very well be that the crown prince had knowledge of this tragic event," the president said. "Maybe he did and maybe he didn't!"