Breaking News
Editor's Note: The entire Evening Sun staff contributed to this report. Full story in Monday's edition. NORWICH – Ganesh Remy Ramsaran, 38, of New Berlin, pleaded not guilty to one count of second degree murder in Chenango County Court shortly after 1:30 p.m. today, more than five months after he first reported his wife, Jennifer L. Ramsaran, 36-y... read more...
The Evening Sun is Chenango County, New York's Hometown Daily Newspaper.
We publish our print edition five days a week out of our Norwich, NY offices.
May 19th, 2013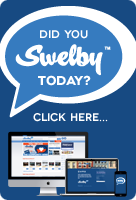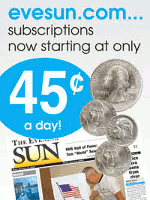 Local Headlines
Reporter Blog
Letter from the Editor 4.12.13
Apr 12th at 1:30 pm by
brian
Quite the week in news, particularly today's top story and the estimated 100 pounds of marijuana (not to mention $36,000 in cash) confiscated by the Chenango County Sheriff's Office on Thursday. Needless to say, we...
read more
On Twitter
© 2013 Snyder Communications/The Evening Sun
29 Lackawanna Avenue, Norwich, NY 13815 - (607) 334-3276