Advertise on Evesun.com
Evesun is Chenango County's most highly trafficked website with over 100,000 visits each month. Reach tens of thousands of unique, geographically targetted local visitors with your business online, now it's easier than ever!
We're Here to Help
We know online advertising may be new to your business and we're here to help. We're happy to answer all your questions about this new way to advertise your business, simply email us anytime at support@evesun.com.
What you get
Exposure to over 3,000 daily readers
Audience consists of mostly local readers, with some previous or vacationing residents.
A great chance to brand your company online and a cost-effective way to drive local traffic to your website
Ads available
Leaderboard: Slot 1
728x90 Ad Size
Top of every page, great placement
Starting at $50 for 20,000 views ($2.50CPM)
Small Block: Slot 2
120x90 Ad Size
Top position in Ad column
Starting at $10 for 20,000 views ($0.50CPM)
Large Block: Slot 3
120x240 Ad Size
Above the fold large ad placement
Starting at $20 for 20,000 views ($1.00CPM)
Skyscraper: Slot 4
120x600 Ad Size
Largest Ad placement on every page
Starting at $40 for 20,000 views ($2.00CPM)
In Story: Slot 5
300x250 Ad Size
Only showed on story pages, placed at the center of the story
Starting at $40 for 20,000 views ($2.00CPM)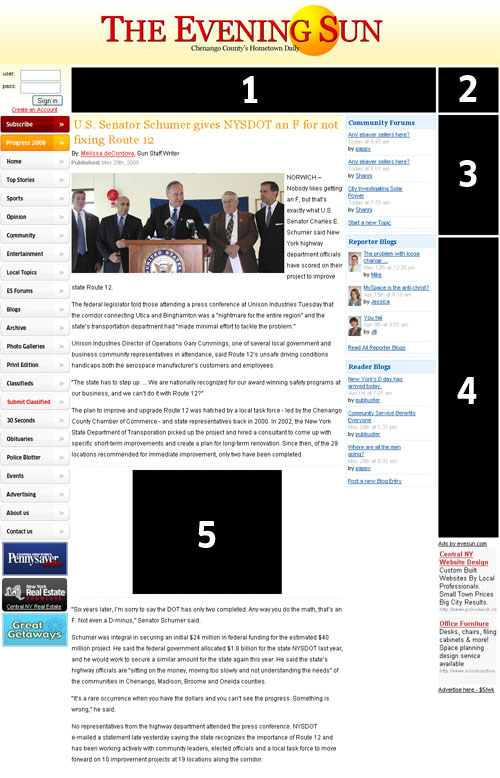 © 2018 Snyder Communications/The Evening Sun
29 Lackawanna Avenue, Norwich, NY 13815 - (607) 334-3276